When not interpreting in a booth, conference interpreters are, like any other business travellers, often busy packing or unpacking their travel suitcases – or in my case, my trusted backpack. Why backpack? First of all, I like travelling lightly and living a minimalist lifestyle. Minimalism and tidying up have become very fashionable recently. To me, however, this is more than a fad. I see it as a shortcut to more me-time and less tedious hassle. With an aversion to clutter, I simply enjoy having my life in order. I also enjoy the freedom of checking out of the hotel and venturing out on foot to explore a new city without cumbersome bags in tow.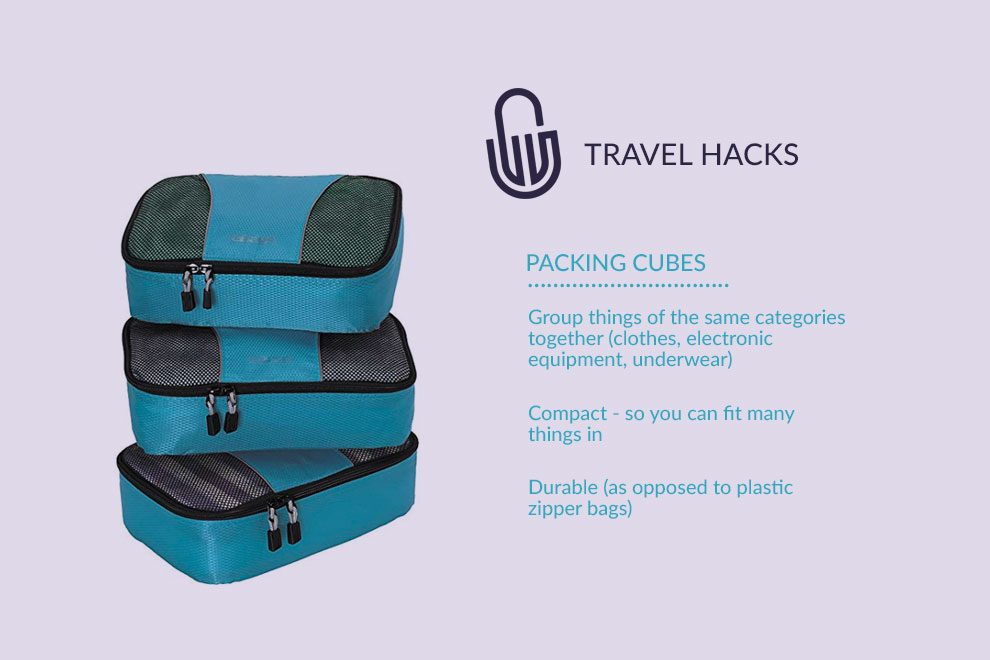 Routine is key
To make packing less tedious, I rely on a routine. My recipe for hassle-free travel is packing cubes. There are many different brands and options available, but my set comes in three different sizes. Since my work trips tend to be short, one or two nights on average, I get by with the medium and small size cubes. The large cube is usually reserved for family holidays when I pack my own as well as my daughter's clothes.
Packing for work trips
On work trips, I use the medium cube for all my clothes. I tend to pack one pair of work trousers or a skirt, one work shirt per day, one pair of jeans, a relaxed top to change into after each workday, underwear, socks, nightwear and a swimming costume, if the hotel has a pool. I'm not much of a fashionista so most of my clothes are practical and comfortable. The advantage is that I can mix and match and wear them in different contexts. For example, I love smart boots, but mine are flat and I can wear them with work clothes as well as with jeans or a relaxed skirt or dress.
Small items
I reserve the small cube for all electric items: my power cable, phone charger, power brick, memory stick, headphones and European and Swiss plug adaptors. I also pack a clear toiletry bag. It's waterproof and approved for hand luggage, meaning no more disposable plastic bags before security at the airport. Travel size toiletries are expensive and contribute to more waste, so I prefer small reusable acrylic bottles and pots. Mine are from Muji. This way I can pack small quantities of all my favourite creams and potions. Travelling with only three small storage bags means that I keep things of the same category together. Gone are the days when I had to rummage through my bag looking for some small, yet indispensable object.
Automate it!
With time, packing has become an automated task – I hardly notice going through the motions. As a result, the whole process is quick and efficient and doesn't get in the way of making the most of my billable time and post-work relaxation.