When planning a multilingual event, there are several practical aspects to consider with regards to interpreting equipment. Some of the questions I usually ask my clients are:
How big is the event?
How long do you expect it to last? Do you have a timetable/an agenda?
What's the subject matter? Are reference materials available?
What language(s) do your participants understand?
What language(s) do they speak well enough to comfortably convey their message to the target audience?
Tell me more about the venue, e.g. is it a conference centre, an office, a trade show, outdoors?
What equipment do you need?
The list of questions is not exhaustive but today I will focus on equipment. Hopefully, I can shed some light on the different options available during a typical interpreting assignment.
Booths and simultaneous interpreting console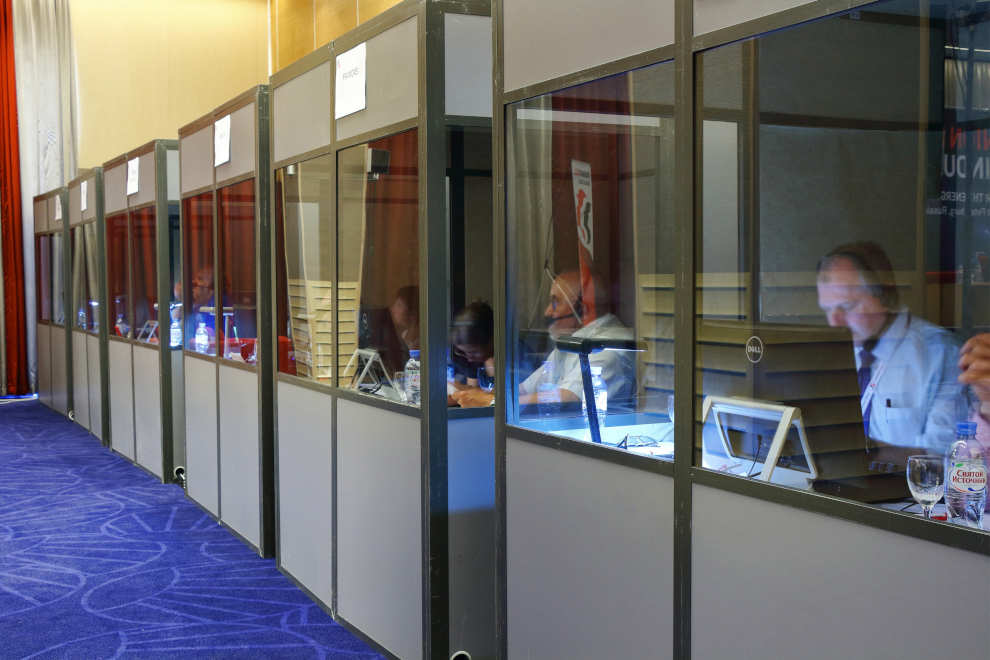 This is the classic set-up option for events that require simultaneous interpretation. Some conference centres have permanent booths, but the most common solution is mobile booths, available for hire from several professional providers of simultaneous interpreting equipment. The booths have to be large enough to accommodate two interpreters who will typically take turns every 30 minutes. Simultaneous interpreting is certainly a mentally exhausting process! The booths are equipped with consoles, headsets and microphones enabling the interpreters to hear what is being said on the floor. Headsets are also available for the participants so that they can listen to the interpretation from the booth when and if required.
Important: Speakers should ALWAYS use a microphone when taking the floor. Otherwise, interpreters won't hear their interventions in their soundproof booths.
Advantages: Comfortable and soundproof
Disadvantages: Stationary. A technician is necessary for set-up and technical support during the event.
Tour guide system for simultaneous interpreting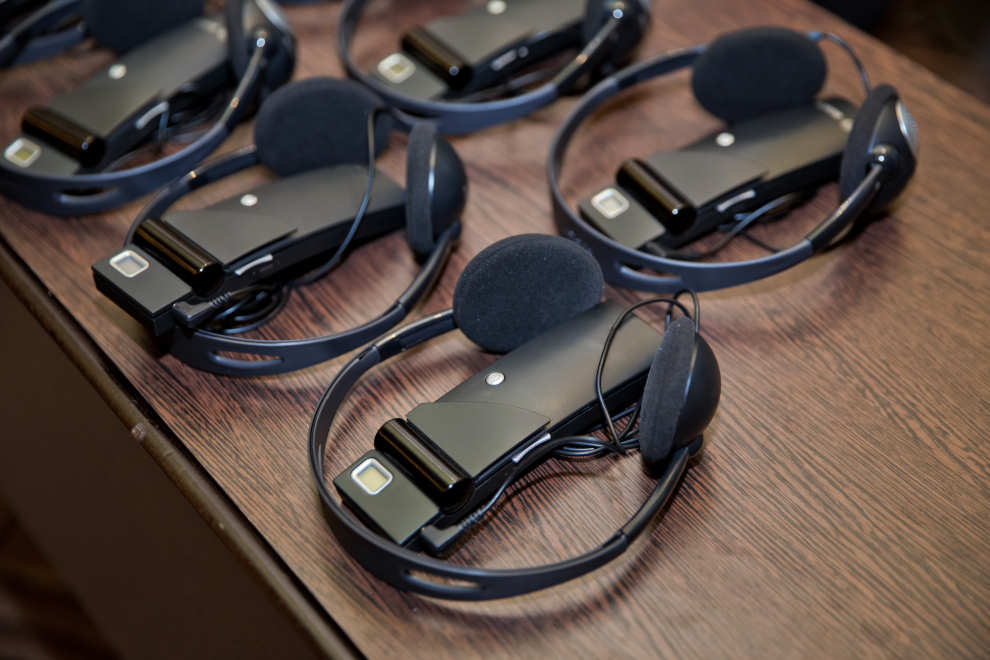 Tour guide systems, on the other hand, are portable and offer a cheaper alternative to the classic booth solution. Just like consoles, they have multiple channel settings enabling the simultaneous interpretation of several languages in real-time. Since they are wireless, users can set them up in minutes without the help of a technician. The interpreter speaks or, depending on the location and the set-up whispers into a microphone/transmitter. Meanwhile, the participants listen via an earpiece from a small pocket-sized receiver. In other words, tour guide equipment delivers a practical solution whenever you expect your participants to be on the move – be it during site visits, walking tours or in outdoor locations.
Important: The interpreters are not sheltered by soundproof booths. Consequently, this may impact on their ability to hear the speaker well enough to render a faithful interpretation. If several languages are spoken and the meeting takes place in a small room, the interpreters will endeavour to whisper to avoid disturbing their colleagues and the other participants.
Advantages: Mobile, easy to set-up and cost-effective.
Disadvantages: Not sound-proof and not ideal for small meeting rooms involving several languages.
Simultaneous interpreting with no equipment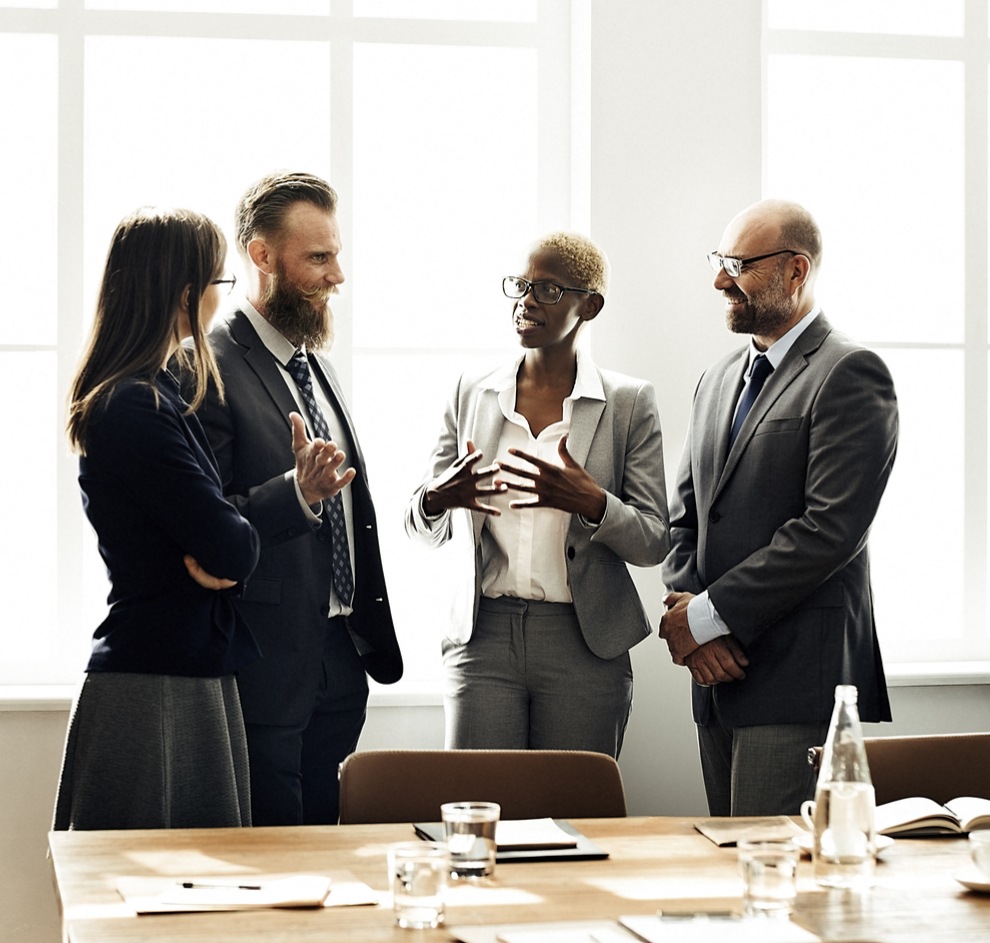 Whispered simultaneous interpreting, also known as chuchotage after the French word for "whispering", is an equipment-free option for small-scale events. Usually, one interpreter is assigned to no more than two delegates. This is because it is impossible to deliver a whispered interpretation in a low tone of voice to a larger group. If the event takes place in a meeting room, the interpreter will sit behind the participant(s) and render a real-time simultaneous interpretation of what is being said.
Important: For groups exceeding two participants per interpreter, a tour guide system is a far better solution. Otherwise, the interpreter will have to raise their voice and, no longer whispering, may become a nuisance to the other participants.
Advantages: Cost-effective as no equipment hire is required.
Disadvantages: Not suitable for larger events. Very tiring.
How many interpreters shall I engage for a simultaneous assignment?
Regardless of the chosen option, simultaneous interpreters usually work in 30-minute "shifts" before needing a break. This allows them to recover from the mental effort of listening, speaking and analysing complex information simultaneously – which is as hard as it sounds!
From the client's point of view, regular breaks ensure better quality and consistency of service. If interpreters work in pairs, there is no delay, as the second colleague can seamlessly take over. In contrast, interpreters working on their own will need regular breaks in 30-minute intervals, which may interrupt the flow of the event and result in longer meetings.
Conclusion: Everyone hates long meetings so always hire two interpreters!
Please contact me at kasia@unlockingwords.co.uk for a quote or if you need support with a forthcoming event.